Last updated on November 14th, 2019 at 07:17 pm
I had the great honor to participate in an Instagram discussion on Mental Health and suicide within the POC (person of color), in particular the Latinx community. Check out the instagram account @thestrangeisbeautiful for the full conversation. There were 3 topics and I picked #1 to respond to as a mental health professional.
Topic # 1:
Many people posted that they would like friends or family to check-in, visit them in-person regularly, or give support. Having been on both sides, I know it can be hard for me to listen to a friend struggling vent when I'm not feeling good, or just in general can trigger me too. Though I think it's important for friends and family to be supportive, I think it's important for those struggling to not feel that it is their friends and family's 24/7 job to be there for them. There needs to be another resource or another type of person that can be available instead of having friends and family be fully responsible for another's well being.
Tell me your thoughts on this. (Disagree, agree and why. What other options can we offer? Do you know of different options?)
It's super important to have *safe and healthy* social support when you're feeling depressed or suicidal. AND it's also important for the depressed or suicidal person to receive professional help. While family and friends can be lifesavers and "good intentioned," sometimes their advice can be very triggering or even invalidating to the person. "Don't think like that," "you know we love you, isn't that enough?," "you just need to ___." I've worked with a lot of families and clients who simply don't understand depression, even if they've gone through it themselves. So if someone is going to seek family and friends to talk to about this very complex issue, then pick someone who is completely safe and validating. If you don't have anyone like that then please seek professional help. And if that professional isn't completely safe and validating, then go find another one. Finding safe and validating people can be a lot of work and yet so worth it at the same time. They are the ones that feel comfortable just listening without giving advice. When you find them in family/friends they are the ones that can simply hug you, stroke your hair, and give you a bag of hot cheetos, un te de manzanilla, una sopita because they know that will put a smile on your face and their oh so healing powers. They will not try to change you, but they will provide you with safety to be in your sadness and simply be there with you. Like with any other life threatening illness, loved ones suffer too. It can be emotionally taxing to receive calls from a suicidal loved one, because they worry and might not know how to help. Also if there is a history of self-harm or suicide attempts it increases the worry ten-fold. This is where seeking therapy can be a good option for you. There is a wonderful treatment called Dialectical Behavior Therapy (DBT) that was created for suicidal and self-harming individuals. I highly recommend it. It has several components: 1) weekly Individual therapy focused on reducing suicide and self harm by building a life worth living, 2) skills group that focuses on things you can do to understand and manage your feelings, 3) Crisis coaching phone calls with the therapist when the person is actively suicidal and is agreeing to receive help/ideas for coping, 4) the therapist attends a weekly team with other DBT therapists for support and consultation. It's a big commitment for both the client and the therapist and it's life changing. For adolescents, the model has been adapted slightly to have the parents participate in the skills group with the teens. Here family members also learn how to be supportive, validate and be a coach for the teen when they're going through something. To answer the initial question, I do think that it's a balance of seeking out social support and also committing to being safe (here I mean, don't commit suicide or self-harm). Loved ones and even therapists burnout when the person they are helping are still harming themselves. If you call someone for help, or are responding to their check-in, please agree to take the help they offer. I know this is hard when depression is driving the car and it's the singe best thing that's going to help you and your relationship with this loved one.
What language is appropriate to use as a friend: I wrote a blog article on what to say to someone who is depressed to encourage them to heal and go to therapy https://sofiamendozalcsw.com/what-to-say/yourlovedoneisdepressed/. Some snapshots are: Start with validating their emotions. Validation is a little like stating the obvious – which is why a lot of people skip it, but people who are depressed really need to feel like their voice is heard or struggle is being seen. This is where you can say things like:

You are in so much pain right now.
I know this is really hard for you.
"You went through something really traumatic. It makes sense that you're in pain."
"I'm so sorry you're suffering like this."
Introducing the idea of a therapist.
"You deserve to have someone who is unbiased, non-judgmental and in your corner – on your side."
"A therapist doesn't have all the history you and I do."
"A therapist has a lot more tools and training than I do to help you."
If they say they've tried therapy before and it didn't work, encourage them to try with another therapist. Not all therapists will be helpful or the right fit. They can definitely shop around until finding "the one" for this situation, in this moment (sometimes different issues require different expertise).
Why it all matters. We all deserve unconditional compassion. Compassion can sound like:
"Mija, you deserve to heal appropriately."
"Your life is worth saving"
"Comadre, you matter"
"Compadre, you deserve to feel free to express yourself."
"Amor, you deserve to be free of your depression."
"You deserve to work through this issue without fear of judgment or that people will get offended."
"You deserve to self-care. You take care of so many other people. You need someone just for you."
"You don't have to be alone in your suffering. A therapist can help you hold it appropriately."
Respira, Amor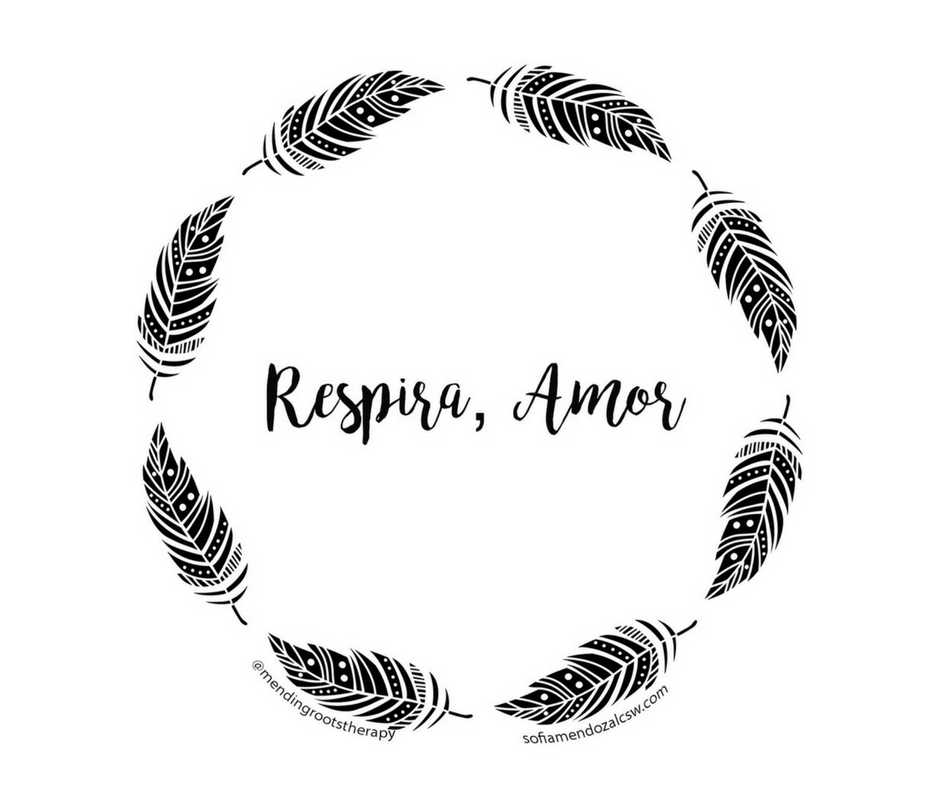 For those who are depressed and want to know how you can talk to your loved ones about your depression:
Simply, Tell them what you need.
"I'm really stuck in my pain right now."
Let them understand the difference (if there is one) about having thoughts of wanting to be dead and actually planning a suicide attempt. Rightfully so, suicide scares everyone.
"I'm calling just to hear you tell me that you love me because I'm really struggling right now and having thoughts of wanting to be dead."
"I need help. I will take the help you offer."
"I just need you to listen. don't ask me questions."
"Just tell me that you hear/love/support me."
"I don't need advice. I just want to vent."
"Please check in on me every Friday if you don't hear from me."
I get asked a lot about how to seek help.
If your loved one has insurance, there is a 'member services' phone number on it (most are on the back). Ask for their mental health services department. I recommend talking to a live person to have them email a list of their providers that are close to the home or work (or the city the person wants to seek services in). They can then cross reference that list online by searching the therapist and a website.
You can also type in the search engine of your choice, "Therapist in (city)" or by zipcode.
psychologytoday.com is an online therapist directory that you can filter by location and insurance. The website has a feature where you can send therapist profiles to people by email.
If your loved one is an adult you won't be able to call a therapist for them. The person seeking services has to make the call and schedule their appointment
Most therapists will offer a free 15 minute phone consultation to discuss the situation and answer any questions they might have about therapy, style, and see if together they a fit for each other.
In Los Angeles County, we are super lucky. There are lots of programs that focus on prevention, early intervention that the uninsured and even undocumented folks can take advantage of. Call the LA County Department of Mental Health Hotline at (800) 854-7771 to ask about services near you or for them to come to their home to evaluate them.
If you're unsure about your loved one's safety. You can always call 911 and ask them to conduct a welfare check at your loved one's location. You must have the location handy. Some law enforcement agencies have mental health teams that can go out and assist with the evaluations. Regardless though, police officers have the ability to take individuals to the ER for a more thorough mental health evaluation.
You can also offer to take them to the nearest ER or to their medical professional for an evaluation.
@melaninandmentalhealth and @therapyforlatinx are wonderful resources for POC. Maybe all us POC therapists can also add #POCtherapist on our posts? I'll definitely go back and add that to mine.
Primary Care physicians, schools (all of them), Human Resource Offices, Police Departments all have agencies/people who they refer to for mental health issues
Our Latinx People ARE seeking mental health resources. Yes, tias/tios, abuelitas, primos, little sisters, POC teachers/therapists/professionals… I know because I see them. I've seen them in community mental health clinics with and without insurance, and also in my private office. OUR GENTE is looking to heal generational trauma, abuse, perfectionism, self-harm, depression, anxiety, etc. I'm so proud of them (and even me when I went to therapy too, my mom when she decided to get on anti-depressants, my family members who keep trying with different therapists and who argue with their psychiatrists, lol).
If you don't want to do therapy, that's ok too. But commit to life: the good, bad and ugly of it and find ways to make this life worth living. So if church helps you, then go. If it's prayer, pray. If there's anything you can commit to doubting, doubt the depression. Doubt the hopelessness. Doubt the unworthiness. Do 'feel good' things that bring your values and passion out. For some people it's gardening, for others its cocinando pozole, ask people what makes them smile. Ask yourself and do it. Go to a healer/curandera and follow their recommendations, see if that helps. The running theme here is "do it." Do something that gets you close to your passions, values or goals. Ultimately, that's what heals.
Our people/we ALL deserve to heal. Trust in , "Sana, sana, colita de rana. Si no sana hoy, sanara mañana." Trust in that mañana, over and over by getting closer the things and people you love.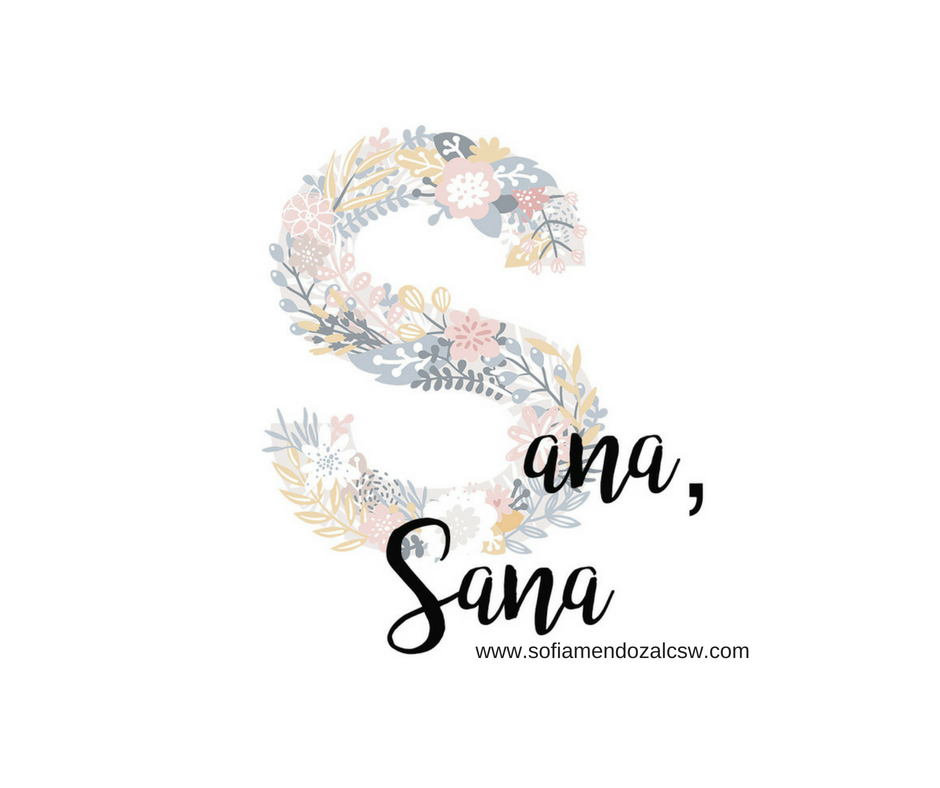 Respira, Amor
Sofia Mendoza, LCSW @mendingrootstherapy
Here are some book recommendations that focus on suffering, acceptance and healing. I also added DBT skills manuals that you can use to focus on behavior change. They are best supplemented and discussed with a DBT therapist. These are amazon affiliate links, which means that if you buy from this direct link, I earn a percentage that I use to purchase more books to review.