Last updated on July 14th, 2019 at 07:57 pm
I'm excite to share with you all my Valued Living Starter Kit. This Valued Living Kit was inspired by my love for vision boards and desire to stay focused on all that's important in my life. When I developed my Vision Board Workshop, focusing on values first made so much sense to me. Focusing on values allows a person to reflect with intention about what's important to them, how much of it is present or missing in their lives, and if they want to pursue those things.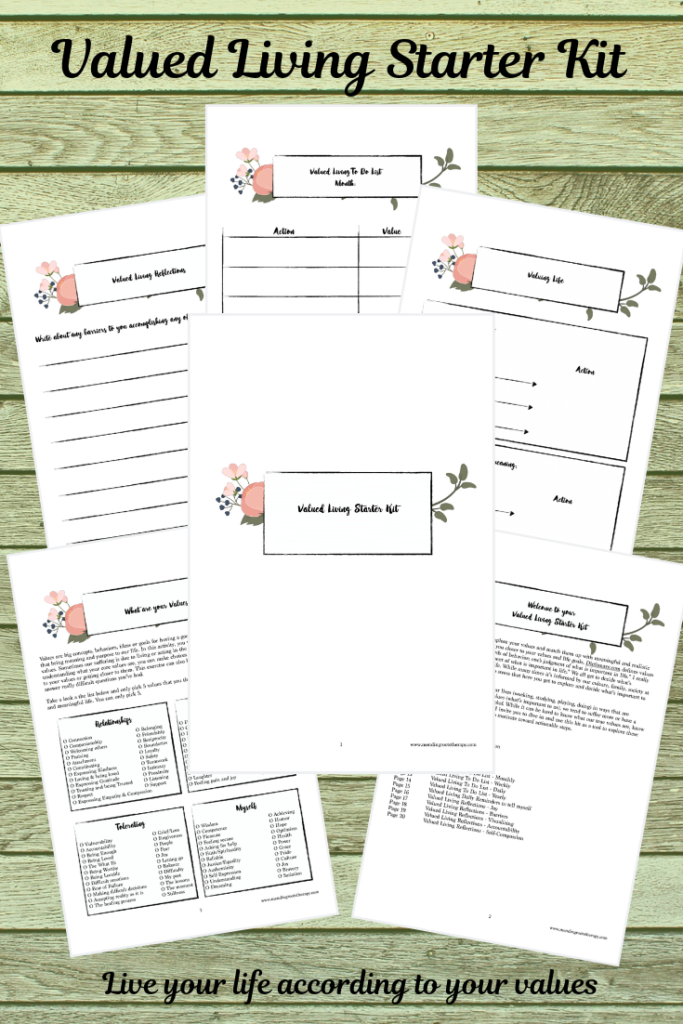 I created this Values Starter Kit because I kept talking about this topic with my clients and I'd have them create makeshift to-do lists for themselves that involved their values. Since one of my values is wisdom and creating, I decided to create this kit for myself and my clients. My goal for you is to have you explore your values and match them up with meaningful and realistic actions (small steps) that will get you closer to your values and life goals.
I always tell my clients that I'll never have them do something I'm not willing to do myself. So this project was also for me to get back to Value Based Living. I've found that when I was living my life in ways that were incompatible or far away from my real values (joy, family, health), I suffered more and had a feeling of being stuck. When I focused on setting small reminders for self-compassion or tolerating being good enough, or imposter syndrome, I found myself being much nicer to myself.
I invite you to dive in and use this kit as a tool to explore these areas of importance and tips on how to motivate toward actionable steps. I used a version of this Kit when engaging people in their Vision Boards and I saw that it not only helped me, but so many others identify their values, envision goals based on those values, and set small realistic goals for themselves to carry those out. People have told me that it helped them stay focused on their goals, and check them off yearly, monthly, weekly or daily!
The Kit includes the following 20 pages:
Pages 1-2 Introduction
Pages 3-4 Identifying Values
Page 5 Blank Values Pages
Page 6 Turning Values into Action
Page 7 Valuing Relationships
Page 8 Valuing Life
Page 9 Valuing Tolerating
Page 10 Valuing Myself
Page 11 Valued Living To Do List – Monthly
Page 12 Valued Living To Do List – Weekly
Page 13 Valued Living To Do List – Daily
Page 14 Valued Living To Do List – Yearly
Page 15 Valued Living Daily Reminders to tell myself
Page 16 Valued Living Reflections – Joy
Page 17 Valued Living Reflections – Barriers
Page 18 Valued Living Reflections – Visualizing
Page 19 Valued Living Reflections – Accountability
Page 20 Valued Living Reflections – Self-Compassion
***To purchase the 20 page Valued Living Starter Kit, please visit the MendingRootsShop page on Etsy. For the rest of March 2019 you can save 50% by using the code: MENDINGROOTS50