As a bilingual POC (person of color) therapist, I had a difficult time finding resources that fit mine and my clients' needs. The Mending Roots Shop was born out of my experience with constantly having to create my own tools and worksheets. I've created several products for people to use for self-reflection and journeys to understanding themselves. I also created notebooks for everyday use that celebrates the roles of social service professionals and the Latinx culture. I hope you enjoy these products. *Disclaimer: These products do not replace a relationship with a medical/mental health provider. The Amazon links below are affiliate links, which means that I earn a small portion of the sale. Each sale contributes to free worksheets and products you can find here. Mending Roots Shop now has its own website which can be found here.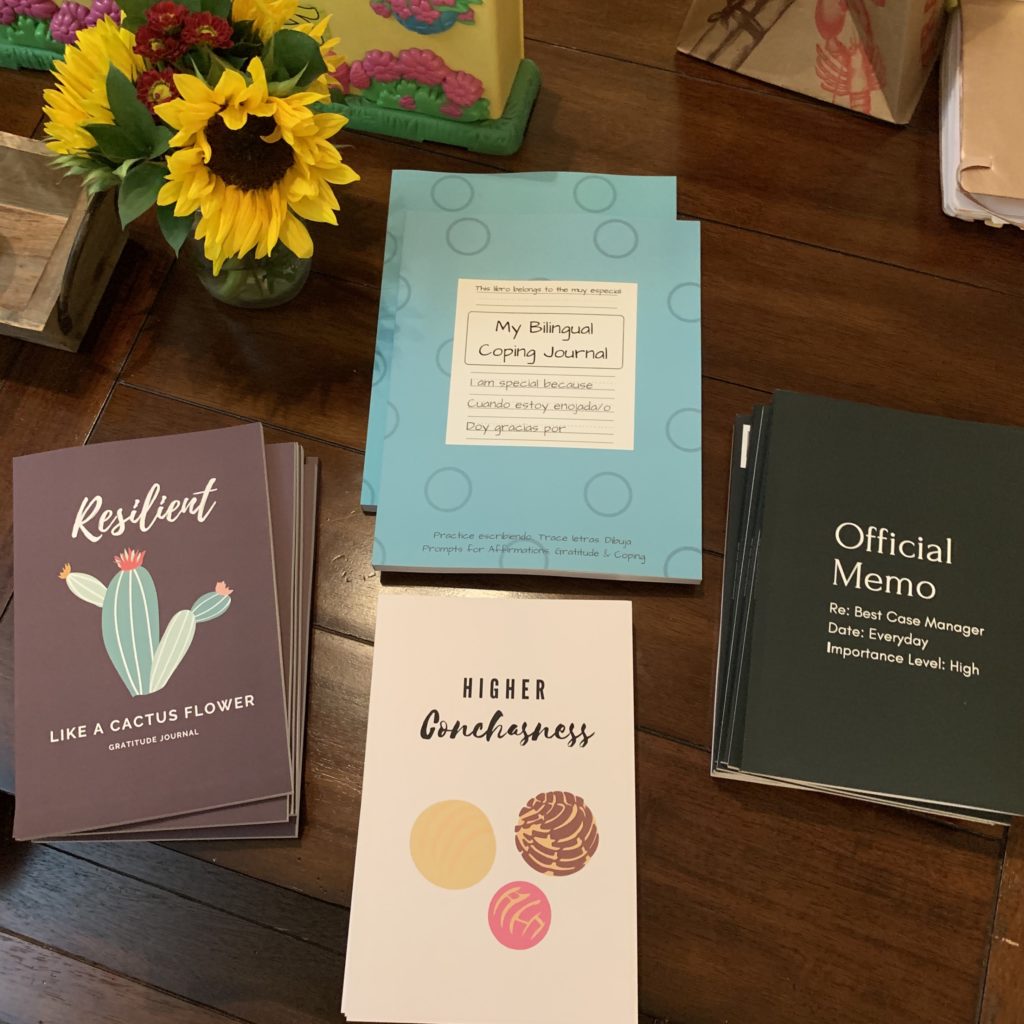 Reflection Journals
These reflection journals have pages with different prompts to get you thinking about your inner strengths and resources. Additionally, they have habit trackers to get you to focus on tracking all healthy behaviors you want to do more of and celebrate yourself as you do them.
"Resilient Like a Cactus Flower" Gratitude Journal
The "Resilient like a Cactus Flower Gratitude Journal" is a 6×9 journal with 60 gratitude prompts. There are also a few pages with "Quick Gratitude" boxes for 1 minute reflections and gratitude practice that can be done anywhere and any time. Gratitude can help centers us in the most trying of times and can allow us to focus on the good or silver linings. You'll find that there's as theme in this journal that focuses on acknowledging the little things and even the challenging things that have served us in some way. This isn't meant to trivialize your challenges, but rather to point out important lessons learned and recognizing your inherent wisdom, strength, growth and resilience throughout it all. My sincere hope for you is to practice focusing your attention on your resiliency with these prompts.
"You are Capable" Reflection Journal, Planner and Habit Tracker
The "You are Capable" Reflection Journal, Planner and Habit Tracker is for the person who is looking to reflect on their strengths and resources and continue to build on them by engaging in healthy behaviors. There are a total of 10 prompts that repeat a second time. After each prompt, there is also a planner page to help you plan for healthy behaviors, self-love tasks and reminders. Next to the planner page is a dotted grid page that you can use to draw, continue your list, or write anything you think you need to complement your planner page.
The last part of the journal has Habit Trackers for you to track all the behaviors you want to start increasing in your life.
This journal/planner is meant to be compassionate and strength based for you to remember your inner strength and implement actions for the life you want to enjoy.
The "Acceptance is…" Journal for Acceptance and Recovery
The "Acceptance is" Journal for Mental Health Recovery is for the person who is having difficulty accepting reality as it is in the present moment. Our suffering is based off of refusing to accept reality. Whether you or a loved one is depressed, grieving, reacting to a traumatic event, this journal can assist in exploring all facets of that struggle and suffering. This journal has several acceptance related prompts for journaling. This journal also has reflection pages, over 100 ideas for Self-Care in different domains, Acceptance & Self-Care Plans, Habit Trackers and Brain Mapping diagrams to help with moving into coping and actionable steps toward living in the present moment.
Vision Board Planners
This 12-month planner is undated so you can buy it and start whenever you'd like. This is for the person who wants to brainstorm values and goals for the year, visualize them by drawing or using images in blank pages, and planning behaviors to get them closer to the life they want to live. This is a great planner for the year as it'll get you thinking about what's important to you, short and long term goals, and have you focus on steps to reach them. They are exactly the same inside, only the covers are different.
There are 12 undated monthly calendars that you can use to plan your goals, or life plans. The right page after the monthly calendar has a blank page for vision boarding or anything you'd like. The left page has a habit tracker with several columns so you can track new behaviors or changes you want to make for the month. I created this for myself and have used it all year. I love it. It's slim, yet large enough for all my activities. I have it with me at all times. Also, each month gives me an opportunity to make a new vision board that I am reminded of daily. Amazon is currently hosting a sale for the the pink one, which is super exciting to me! Go grab it before the price goes up. If you want to see more pictures, I have them on the shop instagram @mendingrootsshop
Books for Kids
"Unicorn Calm" Coloring book
This coloring book is incredibly special to me because my 6 year old daughter and I wrote it together. We talk about calming down a lot in out home (it's what happens when your mom is a therapist. lol). The best way for someone to learn something is to teach it! We agreed we would create a book for kids to learn about coping and calming practices. I interviewed her and asked her about her favorite tips and tricks to calm down. I served as her secretary and editor. It was a fun project we started at the beginning of quarantine and I'm just so proud of it. We've received so many great verbal reviews. There are coloring pages with mantras, tips and tricks to calm down, soothe and cope with challenging emotions. There are also journaling/writing pages with prompts to get children and parents talking about how to cope, who are the helpers in our lives, and other great ideas for talking about feelings.
"My Bilingual Coping Journal"
My Bilingual Coping Journal is meant for children or anyone wanting to develop their English/Spanish vocabulary when it comes to coping, emotions, and coping plans. There are open ended prompts such as: "When I am sad, I can/Cuando estoy triste puedo" written on Story Pages where there is a header, a space for drawing and more handwriting line guides, perfect for pre-school or kindergarten writers. After each set of English/Spanish prompts, there is also a 3 part comic page and a dotted grid page where your littles can continue to express themselves by writing, drawing, or any other way of written expression on the pages.
There are 25 Open Ended Coping/Affirmation Prompts to get your little one thinking about how they can cope with emotions, acknowledge how they can be kind, brave, grateful, thankful, etc. Each phrase is in both English and Spanish, making this a total of 50 pages since each phrase has it's own two pages to write on. After each theme, there is a comic page and dotted grid page for your child's creativity. The last third of the book has blank story handwriting and drawing pages for your child to write about anything else they'd like, or you'd like to assign them. This is the perfect tool for children to also practice tracing, writing, feeling identification and expression.
Samples of Prompts. There are a total of 25:
I am special because / Soy especial porque
I am loved by / Soy querida/o por
I am important / Soy importante
I can do hard things / Puedo hacer cosas dificiles
I am good at / Soy buena/o para
Notebooks
Higher Conchasness Notebook
This Cornell Style Notebook is an ode to the beloved pan dulce Concha and a laughable play on higher consciousness. What can I say? I love silly puns and rewording. Also, since I work with many First Generation Professionals who are at the intersections of their different identities, I wanted a notebook for people to have in their workplaces that helped the exude their pride in their culture.
Escribe, Cipota! Write.
Ethnically, I am half Salvadoran, half Mexican. I take a lot of pride in my dual ethnic identity. On top of that, I love to write. I wanted Salvadoran writers to find motivation and empowerment with this journal. I wanted them to have this notebook and know that their words and experiences matter and need to be shared. We need this voice.
Notebooks for Social Service Professionals
Pleasant Activities Planners
Mending Roots Etsy Shop for Printable Worksheets and Coping Kits